Product Description
Brochure: CALI+brochure+UK+final
CALI by Crane
Serving premier drinks; Intuitive user interface
CALI is based on Crane's reliable coffee platform which delivers high quality coffee from beans and fresh leaf tea drinks. The stylish and robust exterior makes CALI the perfect solution for any environment. CALI features a touch user interface to meet the requirements from today's consumers with visual, backlit touch buttons and a colour video display.
• Great consumer experience
• Stylish, durable design
• Reliable Crane coffee platform
CALI provides up to 28 selections of barista-style coffees, freshly brewed teas and indulgent hot chocolate, driving consumer satisfaction and same-store sales. This is further enhanced by screen content that can be customised with product and brand advertisements to increase consumer engagement.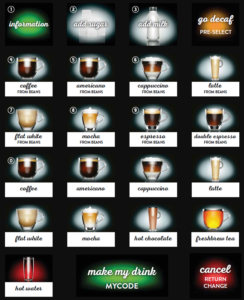 Increase Same Store Sales
• Touch button technology with 5-inch HD video screen
• Unmatched drink quality
• Drive higher vend prices through a premium solution
• Differentiated Offerings to Win New Locations
• Provide product images and full allergen and nutritional information
• Supports multiple payment systems, easy to configure knock out system
• Easy to customise machine appearance
Built-In Durability & Reliability
CALI by Crane is built upon the class-leading and highly reliable hot drinks platform from Crane, ensuring your coffee shop solution is open around the clock.
• Freshbrew models have the Crane Oltre brewer inside, ensuring industry leading reliability and simplicity, tested to over 4 million vends
• With up to 800 cup capacity, the Crane cup drop unit leads the way in cup drop reliability, tested to over 3 million
• Class leading energy efficiency with EVA EMP A+ and A ratings
• CALI uses up to 41% less energy in saving mode