Product Description
Brochure: DPL1020002-01_05.2017_leaflet_english_laRhea variplus (1)
LaRhea  Grande V2
LaRhea Grande V2: the new, high-end range of coffee machines. The LaRhea brand combines 50+ years of manufacturing know-how with the culture
of Italian coffee and the style of Milan.
LaRhea's line of  coffee machines translates the precision and consistency of a professional Italian barista into fully automated coffee preparation, as reliable in performance as it is in flavour.
LaRhea  Grande V2 (Variflex and Varitherm with capacitive screen) – Included
The secret of top quality coffee
Our engineers have succeeded in matching the flavour and quality of the coffee served by Milan's legendary baristas with state-of-the-art laRhea Variplus technology. Three patented innovations reproduce the baristas' secret formula.
Perfect and personalized brew pressure.
Perfect temperature for each kind of drink.
Perfect grind, every time.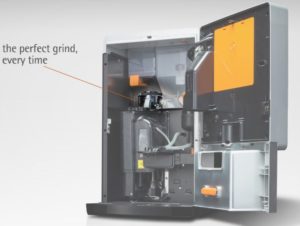 Notes: Machines are offered with Free Delivery within the price. Choose which filter size you believe will cover your usage. The Varigrind option is also an optional extra.