Product Description
Brochure : 
NUUK: Machine Overview:
The frozen vendor consists of two parts, the left-hand side freezer that is holding the stock and the right-hand side module that is housing the 22 inch touch screen and the delivery bin of the machine. The machine is equipped with EasyFlex™ for maximum capacity and flexibility when it comes to dispense any kind of packages.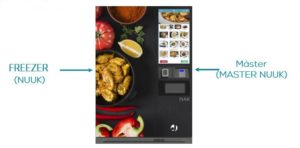 Main Features:
NUUK is storing the products at a temperature of -21ºC (-5.8ºF). While replenishing, the product temperature should be stricktly at -18ºC and the refiller should comply with the replenishment indications, as well as, with the maintenance instructions.
The NUUK is an indoor equipment operating at enviromental temperature from 5ºC to 32ªC (41ºF to 89,6ºF) and a relative humidity of 60%.  Maximum load is 60Kgs (132 lb)
Operating Features:
NUUK would succesfully dispense any packed product that, its maximum dimensions are 175 x 210 x 50 mm (HxWxD) and has an average weight from 20 grs up to 500grs. Having said that, for some special cases, the NUUK may handle products with up to 1kg weight.
Dimensions: